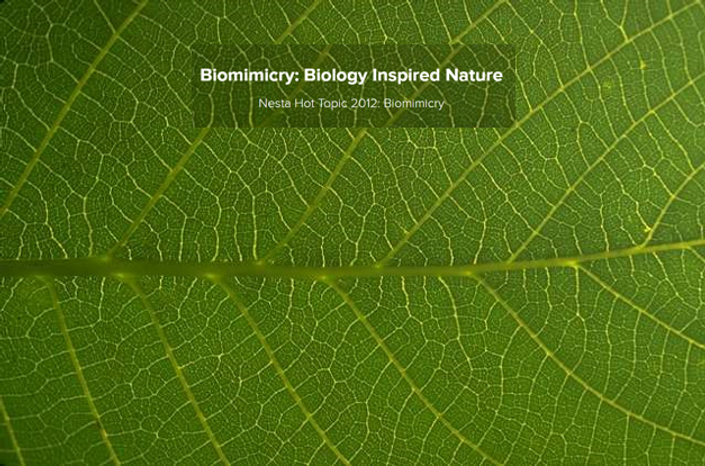 Biomimicry: Biology Inspires Innovation
Nesta Hot Topic 2012: Biomimicry
Watch this series of short lectures on Biomimicry: Biology Inspires innovation
At the 12th Hot Topics event we discussed biomimicry - the use of Nature, with its 3.8 billion years of trial and error, as inspiration to find solutions to today's problems and creative processes.
Inspired by Nature, many of today's creative, design and engineering problems are finding solutions in biology.
Starting with the classic example of Velcro developed in the 1950's, biomimicry has inspired a plethora of modern examples such as Michael Phelps' shark-inspired swim suit and many of the features on the new Airbus 380.

In the future, with engineers and designers looking for ever more efficient and sustainable solutions, will biomimicry have an ever more important role in innovation?
At this Hot Topics event, our specialist panel - Rob Kesseler, Central Saint Martins College of Art & Design, Alex Parfitt, BAE Systems, Denise DeLuca, Swedish Biomimetics 3000 and panel chair Will Pearson, Director of Technology, Ravensbourne - debated how ideas flow from biology to product design, what tools and institutions enable this process, and how specialists in art, design, architecture, engineering and biology are bought together to solve tomorrow's problems.
- See more at:
http://www.nesta.org.uk/event/biomimicry#sthash.n2...
Your Instructor
Denise is Director of the fully online MA in Sustainable Design program for the Minneapolis College of Art and Design, where she has been teaching Biomimetic Design and Creative Leadership.
Denise is also co-founder of BCI: Biomimicry for Creative Innovation, a vibrant network of unique innovators, professional change agents, and design professionals with a shared passion for radically transforming businesses and organizations to be in harmony with nature. Denise focuses her efforts on catalyzing natural human capacity for creativity, effective collaboration, and break-through innovation.
Denise was previously Project Lead for SwedishBiomimetics 3000 and Outreach Director for The Biomimicry Institute.
Denise has presented/facilitated dozens of lectures and workshops in biomimicry, business inspired by nature, and leadership. Denise is also author of the book Re-Aligning with Nature.
Course Curriculum
First Section
Available in days
days after you enroll